Chieftain's Feast
The Vikings knew how to party! Book a Chieftain's Feast at the Viking Centre to experience what a Viking feast was like. People met in the Chieftain's Hall to enjoy themselves, but also to discuss important matters like trading journeys.
The delicious meal is served on a wooden board and the drinks in clay cups. A Viking feast offers everything from the aroma of tar to axe throwing! The atmospheric occasion will become a lifelong memory.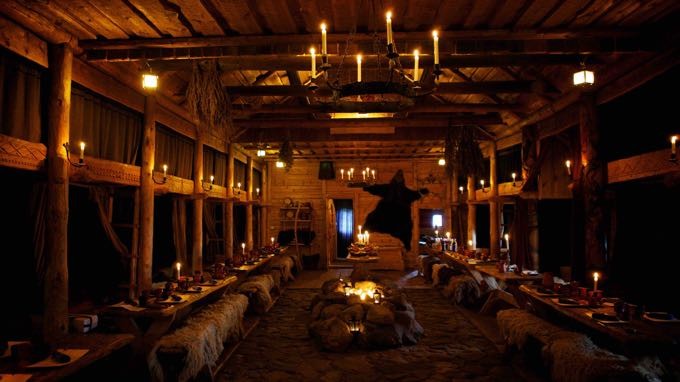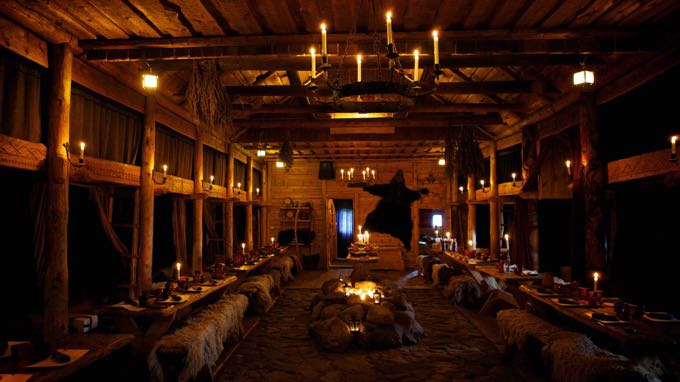 The Chieftain's Feast lasts for 3 hours. The package includes an introductory guiding, a tour of the Viking village with a guide, axe throwing, a Viking cloak, and dinner.
Total price for at least 10 people depending on the menu you choose:
The Valkyria's Delicacies 47,00 € / person
Gifts of the Sea God 52,00 € / person
Chieftain's Celebration 64,00 € / person
Yule Dinner in Viking Style 59,00 € / person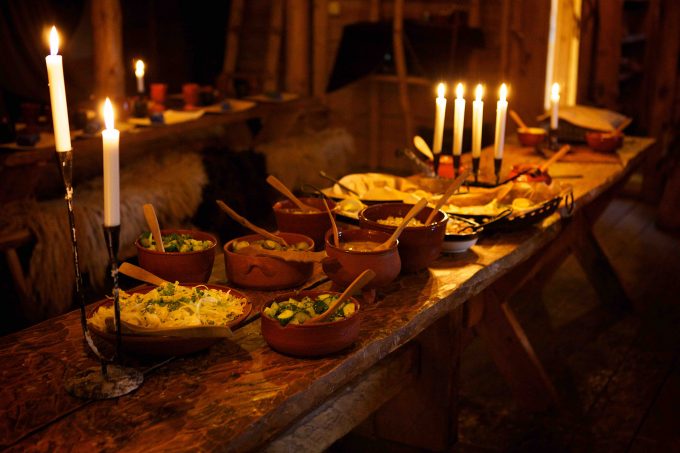 The cost of drinks is not included. We serve beer, cider, long drinks, wine and – obviously – mead. In the summer we will offer our own beer created in collaboration with the local brewery Kimito Brewing.
If you combine your feast with an overnight stay, you get extended dinner time at no extra cost. Accommodation is provided in the Chieftain's Hall, partly in the same rooms as the Viking feast and partly in separate rooms. You can find more information about accommodation here. Don't hesitate to ask for transportation to the mainland by taxi boat and/or transportation by bus from door to door.
The Chieftain's Hall fits groups of 10-80 persons; for larger groups a solution with a pole marquee outside the hall is possible. Ask us for an offer and we'll help you organise a party your guests will never forget!