Bed & Breakfast for groups
The Chieftain's Hall was the most important building in a Viking village. It was the place where the chieftain lived and where everyone gathered to practice the Viking cult. The entrance led to the hall, or main room. Along the sides of the hall ran a bank of earth that served as a sleeping place by night and a bench by day. The Viking village in Rosala has its own Chieftain's Hall, Rodeborg. In order to guarantee the best possible combination of authenticity and comfort, we have built alcoves with comfortable beds, each covered with a linen cloth.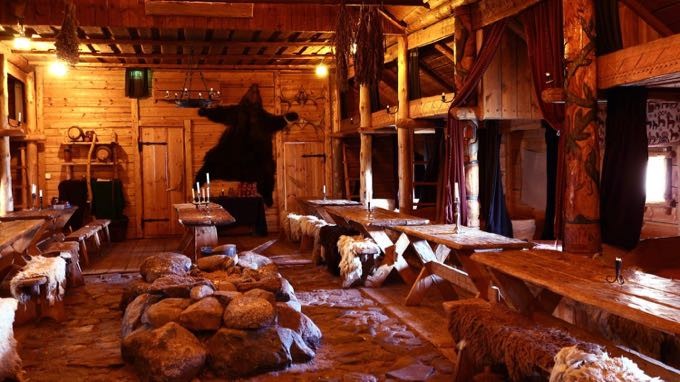 The Chieftain's Hall has 36 beds altogether, of which 26 are in alcoves in the large hall. They are separated by fabrics and fit one person comfortably. There is also a double room, the Cheftain's room Björn, and two 4 person rooms, named after Odin's wolves Freke and Gere. For groups who book the Chieftain's Hall for an overnight stay, we always reserve the full capacity.
The group price for an overnight stay is 55,00 / person (minimum 10 persons). The entrance fee of 8,00 / person is added and includes an introductory guiding. The accommodation price includes sheets and towels, evening sauna and breakfast.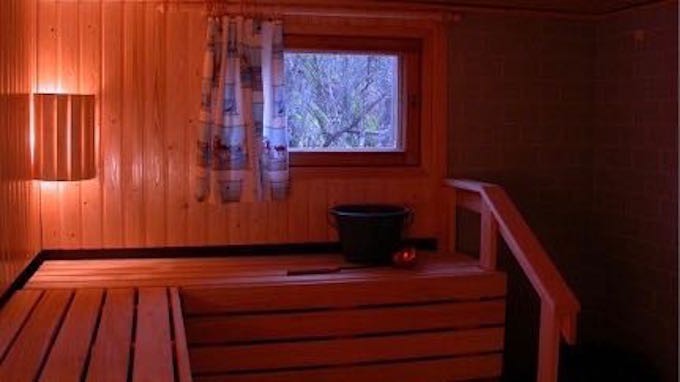 During the summer high season (June-August), times are determined by opening hours since the Chieftain hall is one of the reconstructions that is part of the Viking museum. That means check-in is at 20.00 and checkout is at 10.00. You can check in for the family rooms Freke, Gere and Björn during the afternoon, with checkout at 10.00. Outside the summer season, times can be more freely agreed upon when booking.
You can book an overnight stay with us every day all year round (minimum 10 persons), with the exception of a short period around Christmas and New Year when we are closed.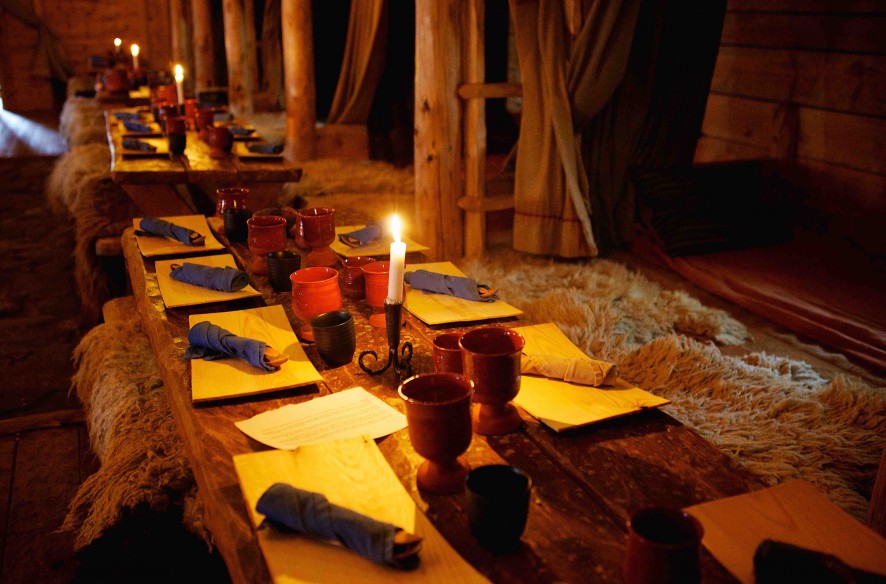 When you are staying with us for the night, we obviously recommend booking a Viking dinner as well! You can book a meal in the evening either with a guided programme, or just as a dinner. See more information about the Chieftain's Feast and our dinner menus.
To make a booking, please contact us by e-mail or telephone. You can also fill out a booking request form on our booking office website rosala.net, where you can also read about other interesting places to visit during your stay!