Winter celebrations
During winter, the outer archipelago lies quiet and still. The only thing disturbing the calm is the occasional storm. The rush of summer has turned into silence. On village roads and on waterways, you seldom meet anyone. A meeting or a celebration in these surroundings is a great opportunity to leave everyday life and modern times behind.
Dinner in the candlelit Chieftain's Hall, activities like axe throwing and archery, and other sights and experiences will doubtlessly make your trip a unique event. There is no more special and atmospheric place to celebrate than the Chieftain's Hall in the Rosala Viking village. After the celebrations, you can rest in one of the comfortable sleeping alcoves in the Hall.
A journey to ancient times is like a journey to foreign lands. Welcome to Iron Age Rosala!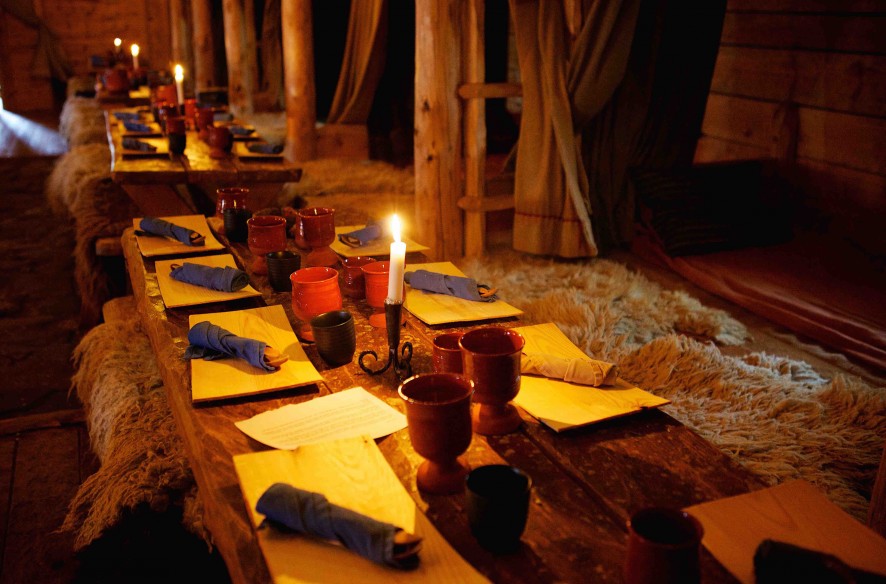 We customise your programme according to your wishes. Here is an example:
Day 1
11.30 Departure from Kasnäs
12.15 Arrival at the Chieftain's Hall
12.30 Lunch
13.15 Introductory guiding
13.45 Meeting / Viking activities
15.30 Coffee break
18.30 Dinner in the Chieftain's Hall, dressed in Viking clothes
20.30 Sauna
Day 2
9.00 Breakfast
11.00 Departure from Långnäs for Kasnäs
Our facilities
Chieftain's Hall: fits 90 persons, accommodation for 36 persons
Sauna: around 15 persons
Auditorium 1: 50 persons without tables, 24 persons with tables or 18-20 persons around a conference table
Auditorium 2: 12-14 persons around a conference table or 30 persons as an auditorium without tables
Café: 30 seats
The Helga Chapel: 20 seats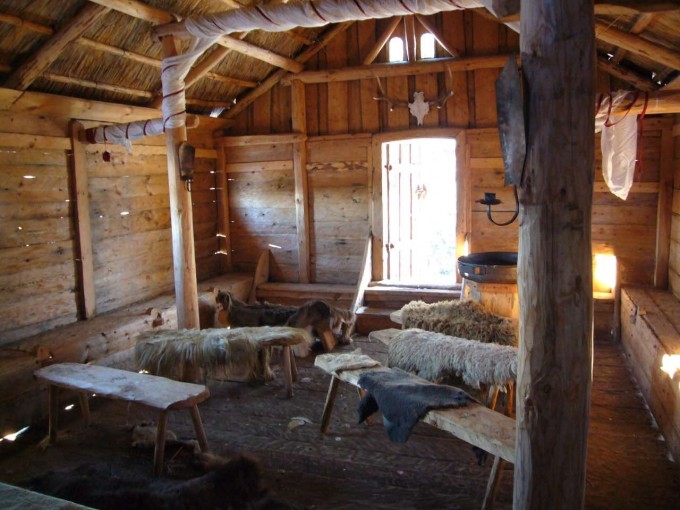 Prices and programmes
Entrance fee including a short introductory guiding 8,00 / person
Accommodation including evening sauna and breakfast 55,00 / person
Meeting facilities including coffee 20,00 / person / day or 30,00 / person / 24 hours
Viking pentathlon 15,00-20,00 / person depending on group size
Guided tour of the Viking village and axe throwing including Viking cloak 8,00 / person
Viking seafaring programme 10,00-15,00 / person depending on group size
Rent for Viking clothes 5,00 / person
Lunch 17,00 / person
Coffee and pastry 6,00 / person
Buffet dinner 31,00-48,00 / person, depending on menu.
Boat transportation Kasnäs-Rosala-Kasnäs 22,00-70,00 / person depending on group size. The timetable is planned so you can also use the car ferry M/S Aurora, which is free of charge, and travel in your own bus or cars all the way to the Viking Centre. The complete timetable for the ferry is available here.
If necessary, we can also arrange door-to-door transportation by bus!
Minimum 10 persons. Prices above don't apply for weddings, contact us for an offer.
Get in touch and tell us about your wishes, and we'll customise a programme for you!