Viking dinner menus
Dinner in the Chieftain's Hall is a truly extraordinary experience! You can book a dinner for a group of at least 10 people throughout the year, or on certain days also for a smaller party.
If you choose only dinner, the entrance fee of 8,00 € / person will be added. The fee includes introductory guiding and a guide map to the Viking village. We recommend booking the entire Cheftain's Feast programme, that includes a guided tour to the Viking village and axe throwing!
Valkyria's Delicacies, price 31,00 € / person
Gifts of the Sea God, price 36,00 € / person
Chieftain's Celebration, price 48,00 € / person
Yule dinner, price 43,00 € / person
One menu for the whole party. We can take notice of most of food allergies, if we get the information in advance.
We serve beer, cider, long drinks and wines. Rosala Viking Beer is created in collaboration with the local brewery Kimito Brewing.
The cost of drinks is not included, with the exception of water, and the welcoming toast in the Chieftain's Celebration menu.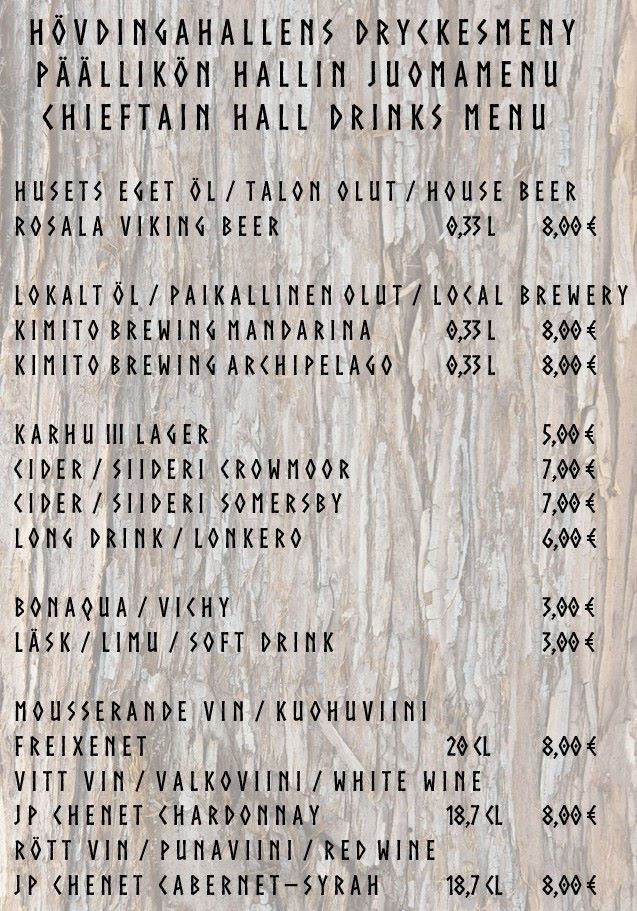 We reserve the right to make changes.