Conference
Inspired by the historical surroundings, you can arrange an effective business conference, ending with a trip a thousand years back in time to the mythical Iron Age. Your visit can contain different experiences: from dinner in the Chieftain's Hall Rodeborg to activities like axe throwing in a Viking Age pentathlon. You can spend the night like the Vikings in unique, reconstructed surroundings, while still having access to all the comforts of modern life.
We provide service year-round as needed, and will customize the package according to your wishes. Whether you want an especially creative and effective meeting or a completely unique recreational trip, we will service you with enjoyment and expertise built on many years of experience!
In the conference room and in the auditorium of the Viking Centre, AV equipment is available for meetings and seminars. For conferences, we provide packages including transportation by boat to and from Kasnäs, accommodation in the Chieftain's Hall Rodeborg with sauna and breakfast, meeting facilities, lunch, coffee and Viking dinner. One-day conferences without accommodation can be arranged as well. The price for an overnight package is 181-255 €/person, depending on group size and activities.
The conference room suits smaller groups of up to 14 persons, or, as an auditorium, up to 30 persons. When staying overnight, this room can be booked for meetings any day from the start of April to the end of October.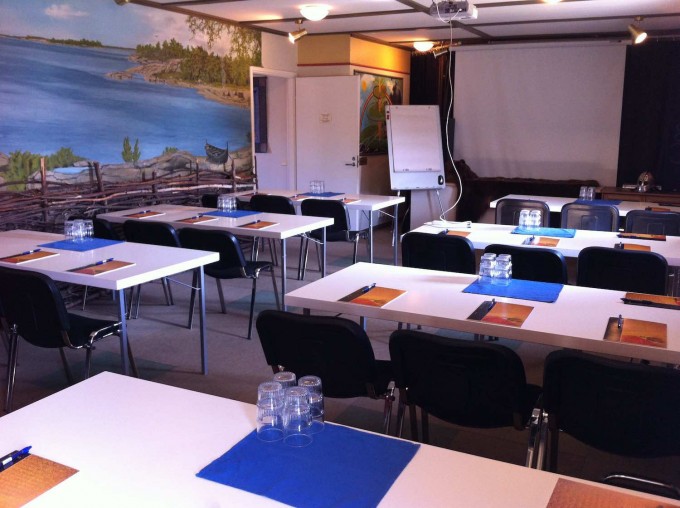 The auditorium in the entry building seats 50 persons and can be booked for conferences outside the tourist season. When we rearrange it as a conference room, it is suitable for up to 20 persons at the same table, or alternatively as an auditorium with tables for up to 24 persons.
The introductory guiding with a video presentation, included in all our programmes, is given in the same room.
Naturally, work is followed by leisure activities. You can book a guided tour of the Viking village, and try Viking axe throwing. Anyone interested in more Viking Age sports can book a complete Viking competition including axe throwing, archery, tug of war, stilt walking, knife throwing, spear throwing and/or a quiz.
The smallest group size we can accept is 10 persons, alternatively smaller groups can be charged for 10.
Maximum amount of persons:
Auditorium 1: 18-20 in boardroom arrangement, 24 in classroom arrangement or 50 in theatre arrangement.
Auditorium 2: 12-14 in boardroom arrangement or 30 in theatre arrangement.
Accommodation: 36
Other activities and meals: 90
Get in touch, and we'll customize a visit that suits your company perfectly!